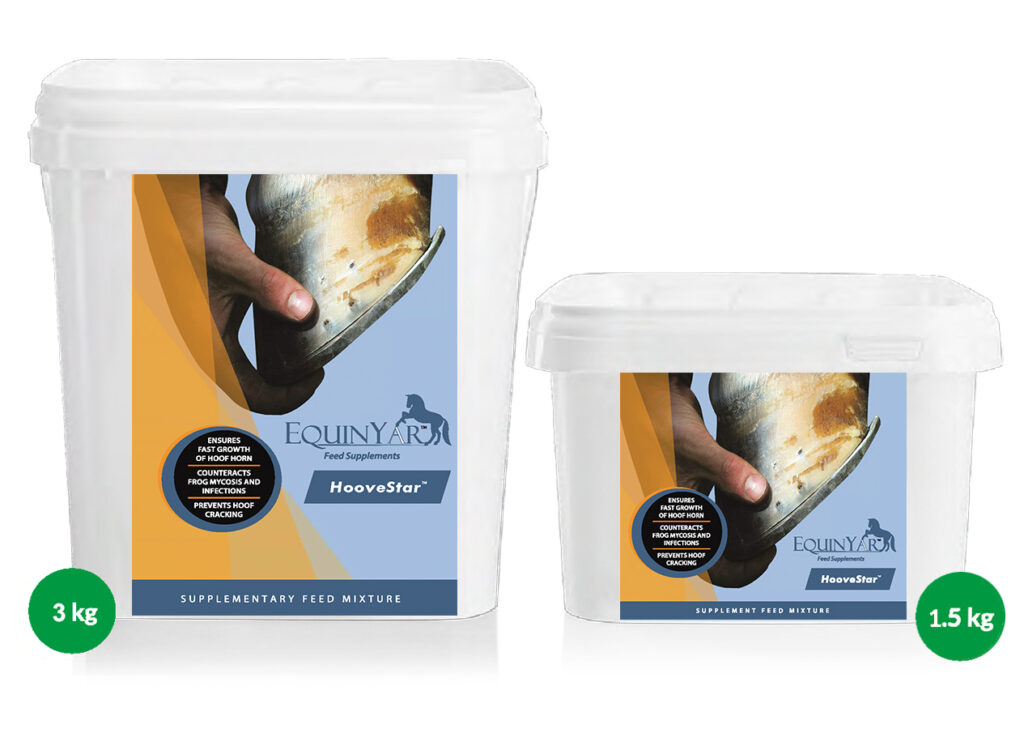 HooveStar is a unique product based on a highly absorbent yeast strain Yarrowia lipolytica with a high content of bioavailable magnesium, zinc and manganese, sulphur-containing amino acids (selenomethionine and selenocysteine), biothin, and vitamins A and C. Additionally, it is enriched with caprylic and caprynic acids, Echinacea, raspberry, parsley and buckwheat leaves.
The quality of the hoof horn depends on several factors: genetics, breeding and feeding, and the hoof care. Deficiencies in minerals and vitamins,
especially in selenium, zinc, copper, sulphur-containing amino acids and biotin, are responsible for common bacterial and fungal diseases, as well as for hoof abscesses. Soft sole, instep, rotting frog, brittle and cracked hoof and white line diseases are among the most common ones. For sport horses which are frequently transported, changing of the housing conditions and exposure to various surfaces do not favor maintenance of a healthy frog and hoof horn, especially in horses prone to infections and in those with compromised immunity. To meet these challenges, we have created the world's only dietary supplement based on the unique Yarrowia lipolytica yeast, to ensure the development of healthy hoof horn tissue and to improve the resistance to infections.
HooveStar - a professional line of products, created in collaboration with accredited animal health research institutions and with blacksmiths and horseshoers. Our product is particularly useful for horses with recurrent infections and mycosis of the frog, white line disease and for horses with brittle and prone to cracking hooves.
HooveStar:
Strengthens and Nourishes Hooves
Yarrowia lipolytica yeast provide bioactive substances such as unsaturated fatty acids, and broad spectrum of necessary trace elements, vitamins and amino acids to strengthen the hooves. Group B vitamins, linolic acid with omega-3 and organic complexes of selenium and sulphur-containing amino acids (selenomethionine and selenocysteine) in particular play a significant role in keratin formation, supporting horn hardness and elasticity, preventing drying and nourishing the whole hoof.
Supports Regular Growth and Prevents Hoof Horn Cracking
Highly absorbent minerals contained in Yarrowila lipolytica yeast, along with biotin and vitamin A. play a significant role in horn quality improvement, particularly in cases of brittle and fragile horn. It ensures healthy growth of the horn and prevents cracking of hoof walls.
Increasing Frog Resistance to Infections
Yarrowia lipolytica yeast culture is rich in bioavailable zinc and copper. Those elements, contained within the yeast cellular wall, are easily absorbed and assimilated. Therefore, they increase the vitality of cells within the hoof tissue. The addition of Echinacea and vitamin C, found in raspberry and parsley leaves, increases the immunity and reduces or completely eradicates inflammatory conditions and rotting of the frog.
Has an Anti-Fungal Effect
The presence of beta-glucans in the cellular walls of Yarrowia lipolytica stimulates the immune system to fight fungal infections. The addition of one of the strongest anti-fungal substances, caprylic and caprynic acids, additionally increases the supplement's efficacy, and helps combat infections.
Improves Circulation within the Hoof Horn Tissue
In order to ensure a proper blood perfusion of the hoof tissue and to facilitate distribution and absorption of nutrients into hooves, buckwheat leaves were added to improve blood circulation in hoof capillaries.
Strengthens the Structure of a Hoof Sole
The addition of magnesium supports normal formation of the hoof box structure and improves its integrity, thus reducing non-shoed horses' reluctance to talk on hard and uneven surfaces. Magnesium improves the resistance of a hoof box to external factors.
HooveStar, complementary feed mixture, enriched with biotin, zinc, copper, magnesium and manganese, is intended for horses with hoof problems. The product supports regular growth of healthy hoof horn, protects against wall cracking and strengthens and nourishes the whole roof. The addition of vitamin C and purple coneflower ( Echinacea purpurea) with anti-inflammatory properties reduces the risk of infection within the hoof and prevents the hoof frog from rotting. The addition of buckwheat improves blood circulation within the hoof.
Composition
Feed materials: yeast, yeast with selenium, dried apple, calcium carbonate, magnesium chelate, buckwheat
Feed additives: biotin, zinc, chelate, purple coneflower (Echinacea purpurea), vitamin C (L-ascorbic acid), copper chelate, manganese chelate, fruit aroma
Indication
Horses with weak hoof horn.
Application
10 g/100 kg bwt daily (50 g/horse of 500 kg daily)
Contact our Customer Support Department to find out how we can address your needs in your market.