EquinYar Execellence has a rich content of bioactive substances with high bioavailability rates that increase the efficacy of this product. Ingredients of particular value include: citrulline maleate, bioactive selenium in organic complexes with sulphur-containing amino acids (selenomethio-nine and selenocysteine), a broad spectrum of exogenous amino acids, omega-3 fatty acids, vitamins and minerals.
EquinYar Excellence provides multiple benefits for the horse. These include:
Increasing Endurance, Strength, and Cell Regeneration after Exertion
The high biological value of proteins in EquinYar, with exogenous amino acids, vitamin E, selenium and vitamin C are responsible for increased stength and endurance in horses exposed to high levels of exertion, as well as for the increased rate of muscular regeneration. EquinYar also significantly enhances the development of muscular tissues in weaker and in young horses.
Bioactive compounds, in particular citrulline maleate, support the above-mentioned processes, facilitating the production of nitrogen oxide, which dilates blood vessels. This process increases the oxygen flow and the supply of nutrients to cells (including the creatine) and accelerates the removal of lactic acid and ammonia, thus reducing muscular pain.
Improving Digestive Processes
Due to prebiotic properties within our yeast which simulates the growth of beneficial intestinal flora, EquinYar reduces digestive problems and lowers the risk of colic, diarrhoea, constipation, and other problems caused by improper feeding, change of diet, or stress.
Strengthening Coats, Hair, and Hooves
EquinYar has been shown to have an excellent effect on the quality of horses' coats, manes, tails and hooves. The presence of zinc and vitamins B, especially B2 and B5, support hair growth, strengthen hooves and support healing processes. Benefits include strengthened hoof structure, reduced cracking of the hoof wall and maintenance of strong, shiny manes and tails.
Target Animals: Sport horses and young horses beginning their sport training
Dosage: 8g/100kg body weight/day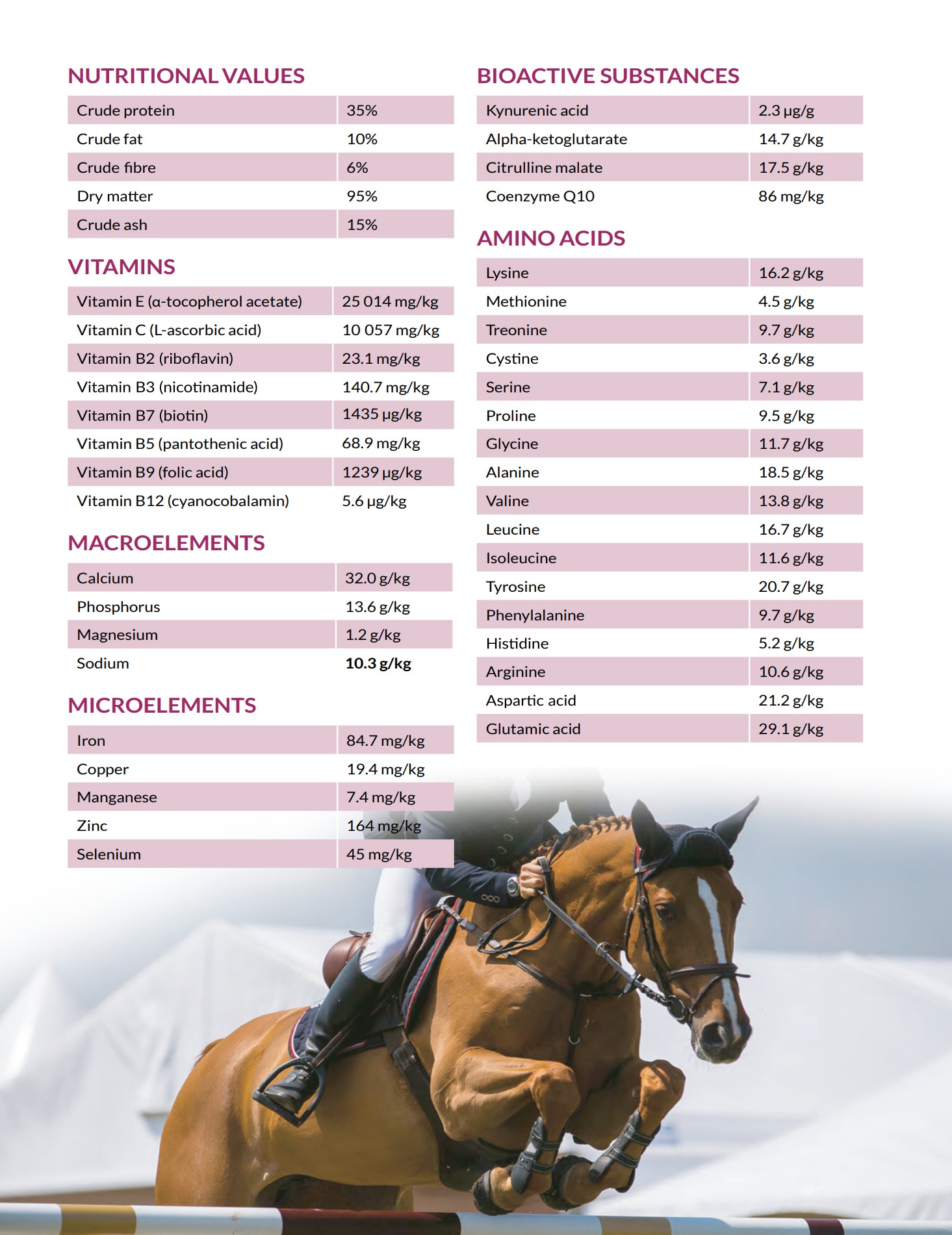 Contact our Customer Support Department to find out how we can address your needs in your market.